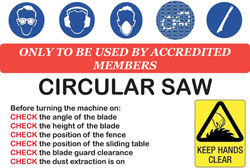 SAFETY IN THE SHED
The Shed has a strong focus on Member Safety, all Members MUST be accredited to use any fixed or portable machine tool. This accreditation ensures that members are capable and confident in the use of machinery that, in untrained hands, may be considered dangerous.
Members are provided with training on the use of machines and manufacturing processes by Shed Supervisors and Trainers. Shed Supervisors are experienced Shed Members who have developed the range of skills necessary to manage the workshop and assist Members with their work. Trainers are Shed Members with expertise in the use of specific machines and manufacturing processes.
Members are encourage to seek assistance from the Supervisor or other Shed Members when they need it and experienced Members are encouraged to offer assistance to their less experienced colleagues.
A copy of the range of Shed Safety Posters is attached for your information
Safety Posters - Safety Posters
---